'Providing a voice for all.' Mia Astle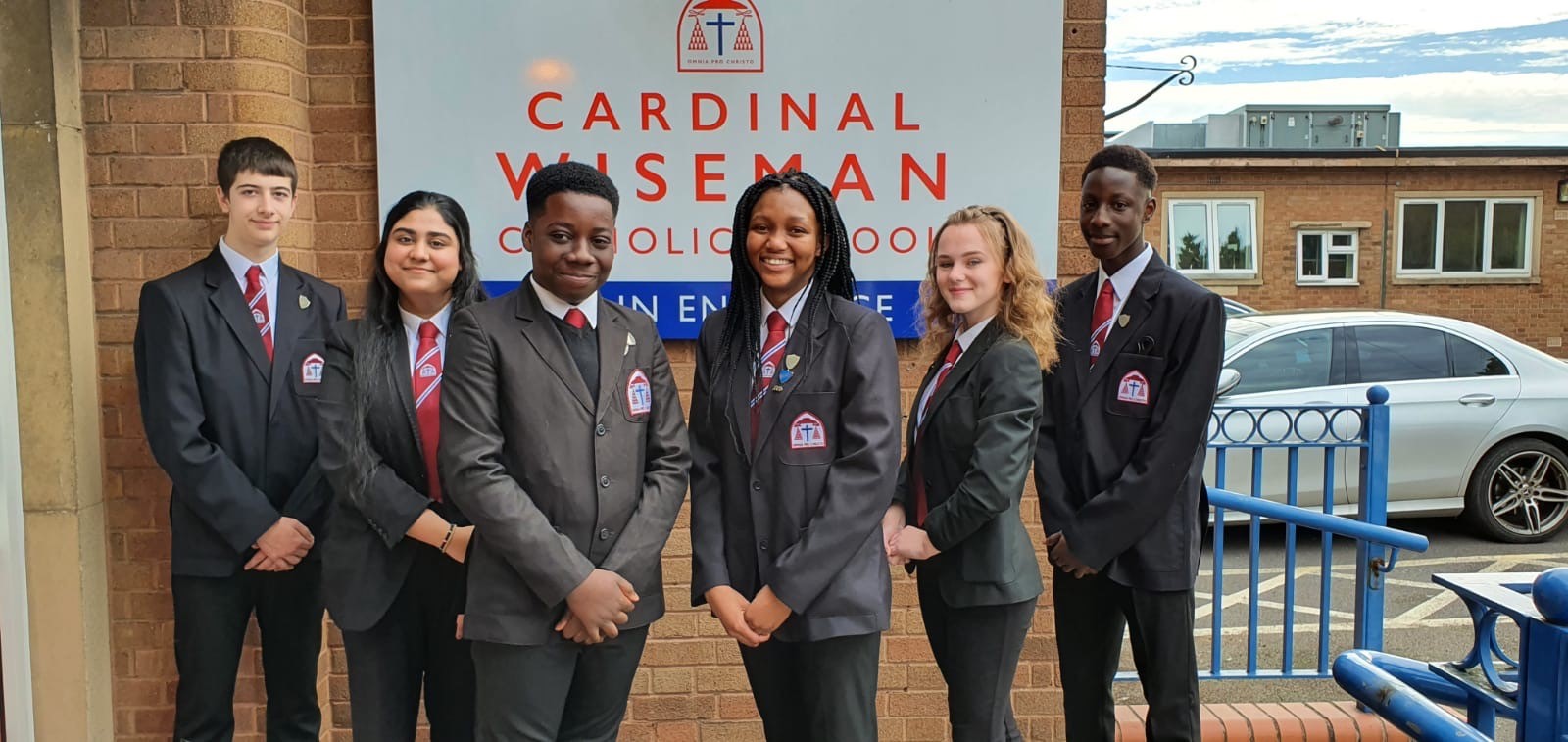 At the start of each new academic year the School Council representatives are chosen in a democratic fashion by their Formation groups. Each form group picks a School Council representative and a deputy.
The reps then come together as a team every half-term for a meeting in which agenda items are discussed and other issues / concerns put forward. During lockdown meetings were held virtually. The pupil leadership team in Year 11 are the driving force behind these meetings – leading the council in their opening prayer, chairing the meeting and typing up the minutes.
After each meeting the reps have the opportunity to feed back the minutes to their Formation groups so that every pupil in the school feels empowered and represented by the council. At this point the form groups are asked to comment or raise issues for the follow-up meeting.
The School Council plays an important role in the leadership of the school – with the points raised at the meetings being fed back to the staff body (the minutes are shared with every member of staff) and acted upon where possible. The mantra of 'You Said, so We Did' is one the school seeks to promote at every opportunity.
Last year the School Council played an important part in the setting up of our brand new Prefect system. The reps helped to create the application form, shaped the roles and responsibilities of the Prefects and even read through each and every application – picking a crop of 46 pupils (out of over 70 applicants) to become our first ever Prefects.
Another item the School Council has tackled is recycling (or lack of) here at Cardinal Wiseman. Back in 2019-20 the reps expressed concern at the lack of recycling being completed at school – a disappointing fact, given that the need to be more environmentally friendly is never far from our minds as it is highlighted in the media and by key personalities. The School Council reps and Eco Warriors transformation group worked hard to raise the issue with SLT and the Governing Body, and new recycling bins were purchased for the school in the summer of 2020. This was a huge achievement for the School Council, and meant the school was able to start recycling paper and plastic – ensuring less of the waste we produce is going to landfill sites, and we are doing 'our bit' for the environment.
Testimonials:
Being part of the School Council is a privilege. It brings out the confidence to speak out, the courage to voice opinions and shows compassion towards our school community. It's imperative that our pupils are heard and that any of their concerns are brought up, so being in the School Council helps to build bridges between the pupils and the teachers. Not only does it help to change our school for the better, it also helps through the experiences one can gain from being in the School Council. For example, my eloquence, confidence and public speaking skills have really improved since joining the school council, and will continue to improve as I experience my last year at Cardinal Wiseman as Head Girl. Julianne Peralta

It is important to be part of School Council because I think that it is necessary to have a group of people who essentially act as a glue between the students' wants and the teachers' needs. As well as this during events such as open evening, it is necessary to have students who are presentable and act as an example for what the children will eventually become when beginning at Cardinal Wiseman. Jordan Williams

The School Council gives me an opportunity to be a voice to those who feel as if they lack one in influencing decision making at school, which matters a great deal to me. We have replaced previous school bins with newer ones that encourage recycling, which becomes more and more important in a world that needs to take collective action to fight the threat of pollution. Whilst every year of the School Council has been of great service, 2019-2020's School Council has excelled in bringing impactful changes to the school. Changes that will not be felt by just us as pupils of Cardinal Wiseman, but the whole world. – Lemar Thompson

I enjoy being part of the School Council as it helps me to know what's needed to improve the school and make it a better place for everyone. It means that all of us have a responsibility to represent ourselves to others in a good way. We've achieved quite a bit and we're getting better, we're working on recycling and helping the climate little by little. It's also important as if we didn't have a School Council it would be more difficult to discuss matters and improve them. – Faiza Yedroudj