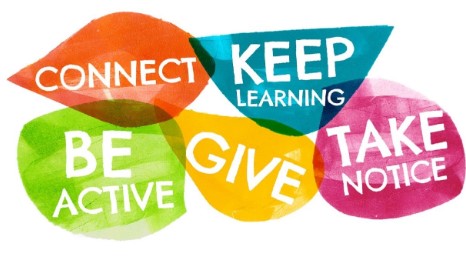 "Mental health is about our feelings, our thinking, our emotions and our mood.
Looking after our mental health is just as important as looking after our physical health."
Anna Freud – National Centre for Children and Families
Mental wellbeing describes your mental state – how you are feeling and how well you can cope with day-to-day life. Our mental wellbeing is dynamic. It can change from moment to moment, day to day, month to month or year to year.
At Cardinal Wiseman Catholic School we value the importance of mental wellbeing for all of our pupils, parents/carers and staff.
Here are some of the things that we do in regards to mental wellbeing:
The Mental Health lead is Mr Beckett (

[email protected]

) who is a member of the Senior Leadership Team.
We proactively teach our pupils every year through our PSHE (Personal, Social, Heath and Economic) and RSE (Relationships and Sex Education) curriculum about wellbeing and resilience. This includes coping with exam stress, healthy lifestyles, mental and emotional wellbeing, managing loss, building resilience, online safety etc.
We deliver assemblies about mental wellbeing and resilience to pupils as and when necessary.
We strive to ensure that all of our pupils have a trusted adult in school who they feel they can talk to if they have any concerns. We have set up an email address for pupils to use if they have any concerns:

[email protected]

.
We have display boards informing and signposting pupils to support both within school and externally.
Other members of the Senior Leadership Team and key staff are responsible for focussing on the mental wellbeing of staff and/or pupils.
We have a commitment to staff wellbeing -

cardinalwiseman.net/staff-wellbeing

/
We have a Mental Wellbeing action plan which is reviewed regularly.
Mental Wellbeing features in the School Development Plan which is reported termly to the school Governors.
We provide relevant and up-to-date information for parents/carers about Mental Wellbeing.
We work alongside Anna Bateman who operates at the forefront of new initiatives for mental health in schools. She has unquestionable passion to drive these forward to the benefit of schools, school leaders and of course pupils and students. She is a member of the advisory group for the Department of Education, advising them on their mental health green paper.
"It's OK to not be OK!"
Sometimes it feels like society says you should be always happy, and that showing your sadness is a sign of weakness. This is far from true – if you were to hold in all your sadness or anger you would explode. We all have good and bad days. No one can be perfectly happy all of the time. That is not human. One day you feel on top of the world, the next you are down. That's why at Cardinal Wiseman Catholic School we teach our pupils that it's OK to not be OK!
Good Mental Health and Wellbeing
 If you have good mental wellbeing you are able to:
feel relatively confidentin yourself and have positive self-esteem
feel and express a range of emotions
build and maintain good relationshipswith others
feel engaged with the world around you
live and work productively
copewith the stresses of daily life
adapt and manage in times of change and uncertainty
Tips about Good Mental Health
There are some simple things that you can do to look after your mental health, either by yourself or with other people.
Eat good food - It's good for your mood! Did you know that your mind is affected by what you eat? Try to eat healthy food and drink plenty of water, to keep your body and brain feeling good!
Keep active - Scientists have discovered that exercise makes you feel good. It can be anything from football, skating or running to yoga and trampolining – whatever you enjoy!
Talk to others - Talk to other people about things that are bothering you and how you are feeling. Although it can be difficult at first, talking with a good friend, family member or a grown-up you trust can really help.
Believe in yourself - Make a list of things that you like about yourself – this could be about your personality, what kind of friend you are, the way you look and things that you can do. If you find it hard to think of ideas, ask yourself "if someone close to me was writing this list about me, what would they say?" Keep this list and look at it when you're finding it hard to believe in yourself
Take time to chill out and relax - People find different things help them relax – it could be having a bath, watching a funny film, drawing, reading or going for a walk. Try different things and see what works for you.
Get plenty of sleep - Try to go to bed at a similar time each night and get up at a similar time each morning. Avoid using computers or playing on things like iPads before bed – the light they make can keep your brain awake even after you stop playing!
Advice and Support
There are many ways to access support both within school and externally.
Within school we encourage all children to share their worries/concerns with any member of staff that they feel they can trust. This could be their tutor, Head of Year, Raising Standards Leader, staff who work within the Learning Support Centre, a Lay Chaplain, one the safeguarding team or any other member of staff.
Pupils can email the Safeguarding Team (DSLs) at [email protected].
Externally there are many organisations and charities where support can be offered. Here are just a few examples:
Anna Freud – National Centre for Children and Families - https://www.annafreud.org/
"A problem shared is a problem halved – it's good to talk!"
Prayer
Heavenly Father,
You are full of compassion; the God of all comfort, who comforts us in all our troubles, so that we can comfort those suffering in our midst.
Thank you for the example of St Teresa of Avila, who said
"Let nothing disturb you, nothing frighten you, all things are passing, God is unchanging. Patience gains all; nothing is lacking to those who have God: God alone is sufficient."
St Teresa of Avila / Pray for us
Cardinal Wiseman / Pray for us
George 8Te