"Gold there is, and rubies in abundance, but lips that speak knowledge are a rare jewel." Proverbs 20:15
Within the RE department we strive for educational excellence whilst allowing our students to
move forward in their faith journey.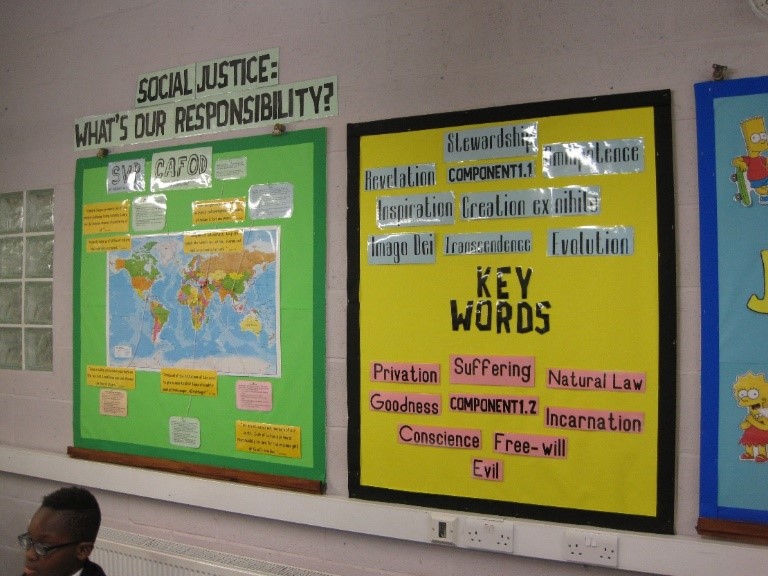 All pupils study RE from year 7 to 11. The first term is spent studying an 'Induction topic' which introduces them to the Catholic ethos of the school and there is a strong emphasis on learning about who Jesus is. Further year 7 topics include the Bible, Sacraments and The Mass. Year 8 reflects 'The Way, The Truth and The Life' series through an exploration of The Covenant, Creation and Paschal mystery. Students in Year 7 and 8 will also study both Islam and Judaism as an introduction to wider faiths.
At the start of year 9 pupils begin RE at KS4. We follow the Eduqas GCSE course. The pupils study three units. The first two units focus on Catholic Christianity; exploring themes such as Good and Evil, Origins and Meaning, Life and Death and Sin and Forgiveness. These units answer many of the big questions in life, such as; is God real? Why do people suffer? When does life begin and end? Pupils find this unit extremely engaging and always have lots of opinions and points to share and discuss. The third unit focuses on a study of the beliefs and practices of Judaism.

"I really enjoy R.E as it allows me to learn about other religions."
Susma (Y7 pupil)